Substack is initiating a crowdsourcing funding round, allowing writers to invest as little as $100 in the company. On Tuesday morning, the startup emailed writers about the investment opportunity. The development comes amidst a freeze in venture capital funding markets, which followed the collapse of Silicon Valley Bank.
"Today, we're starting a process that will let writers and readers invest in Substack and own a piece of the company. We are serious about building Substack with writers and readers and this community round is one way to concretize that ideal," the email said.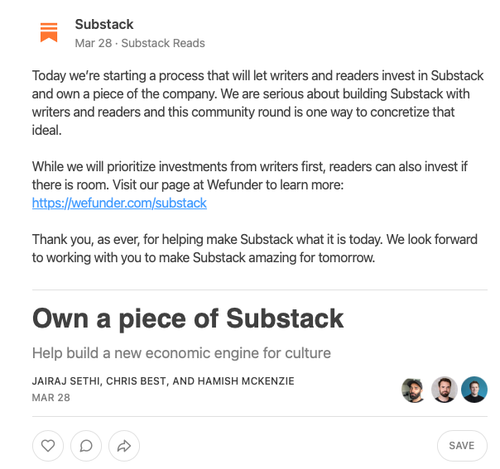 Substack is using the crowdfunding service Wefunder to raise $2 million. Around noon on Tuesday, nearly $800k had been raised.
Investment terms of the money raise stated:
The email went on and on about "Own a piece of Substack" and "Help build a new economic engine for culture" to make it "amazing for tomorrow."
It seems that Substack has encountered funding challenges in the VC space. Before SVB's collapse, funding markets were already tightening due to the Federal Reserve's aggressive move to increase interest rates to combat decades-high inflation. Earlier this year, the company reduced its workforce by 14% and cut expenses to adapt to mounting macroeconomic headwinds.
We told readers last weekend that funding pipelines for startups have ground to a halt. As a result, we pointed out that large investment banks, such as Goldman, are now stepping into the arena to fund some cash-strapped startups at deep valuation discounts.
COVA Capital Partners is soon launching a Crowdfunding service … stay tuned..
SIGN UP